Pak Interior Minister announces exit from politics on day of Panamagate verdict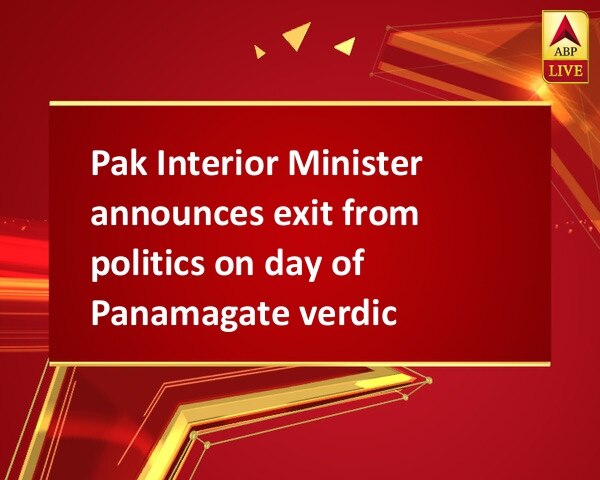 By:

ANI
Updated:
27 Jul 2017 10:55 PM
Islamabad [Pakistan], July 27 (ANI): Pakistan's Interior Minister Chaudhry Nisar Ali Khan shockingly announced on Thursday that he will resign from his office and exit from politics altogether on the day of the Panamagate verdict.
According to the Dawn, the minister said at his press conference that he would resign from his ministry and the National Assembly on the day the Supreme Court announces the Panamagate verdict - "be it for the party or against it."
"My heart is no longer in politics," he added.
At the start of the presser, Nisar remarked that it was the "most difficult" press conference he has ever hosted.
In his nearly 45-minute long speech, Khan talked about his 33-year-long association with the party, the conspiracies within the ruling PML-N, and his disillusionment with politics.
At the conference, he shared details of a rumored rift with the existing PML-N leadership. He also disclosed that he was told by senior party leaders not to hold the press conference today.
Admitted that he was not called for the consultative meeting of the party for the past month, he said, "For the past month-and-a-half, I was suddenly excluded from PML-N meetings. I do not know why this was so. I was not invited to these consultative meetings and I do not attend if I'm not invited."
"Some people said I'd missed the train. I don't just get on any train. I've been on this train since the very beginning, but I've recently been a victim of internal intrigues," he added.
"It pains me to say this, but when the PML-N faced its most difficult challenge, there was a conspiracy to remove me from the consultative process," Nisar said, saying some people did not like what he had said.
The minister also took the platform to give some parting advice to Prime Minister Nawaz Sharif saying, "I want to tell Nawaz Sharif - if I was with you, I would tell you that if you are absolved in the Supreme Court, keep your feet on the ground. There will be those who will ask for heads for roll: I beseech you, you are a humble man, do not fall for this."
"If the court decides against you: you are a well-loved man. This country and its people have given more to you than to anybody else. You have to behave with restraint, and you have to take the party forward. You need to ensure unity in the PML-N and you need to take it forward. Do not be angry; there are some who will want you to be angry."
He reiterated the party's stance of accepting the Supreme Court verdict on the Panama papers case.
"I said this in the party meeting, and I'll say it again: the Supreme Court's decision should be accepted at all cost. If the apex court's decision is not respected, it will be as if Pakistan is ruled by the law of the jungle," he said. (ANI)
This story has not been edited. It has been published as provided by ANI