Shocking video shows Israeli extremists celebrating Palestinian Child's death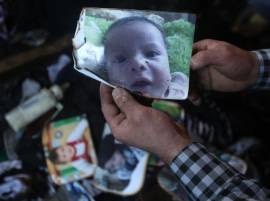 New Delhi: A shocking video appeared showing a hall packed full of Jewish extremist teenagers cheering the death of an 18-month-old Palestinian child, Ali Dawabsheh, who was burned to death in an anti-Palestinian hate crime earlier this year. In that attack his parents were also killed in Duma, a West Bank village.

The video filmed at a wedding that occurred three weeks ago, according to Israeli news media reports, shows a room full of Jewish extremists jumping, dancing wearing white skullcaps.  Two of them appear to be stabbing the pictures of Ali Dawabsheh they hold in their hands. Some of them are brandishing guns and knives.