Strong earthquake in Japan kills 9, topples home; more aftershocks expected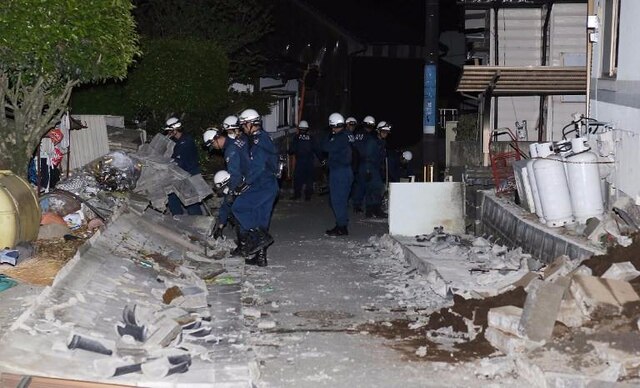 By:

ANI
Updated:
15 Apr 2016 10:40 AM
Washington
: The deadly earthquake which struck Japan on Thursday has left at least nine people dead and stict caution is being maintained as more aftershocks are expected.
According to CNN, search crews are still looking for people trapped under collapsed buildings.
An aerial view shows residents forming a queue to receive meals from defense forces soldiers at the Mashiki town hall in Kumamoto prefecture. AFP Photo
The magnitude-6.2 quake struck near Ueki, the U.S. Geological Survey said. Dozens of smaller aftershocks followed.
An aerial view shows damaged houses in the town of Mashiki in Kumamoto prefecture, on April 15, 2016. AFP Photo.
"I felt quite strong jolts, which I had never experienced before," Shunsuke Sakuragi, a prefectural official in the city of Kumamoto. People were shocked but I have not seen any extreme
confusion in the city," told AFP news agency.
Two deaths occurred in Mashiki, the Kumamoto Prefecture office said. One person died in a collapsed house, and the other died in a fire caused by the quake.
An aerial view shows a derailed Kyushu shinkansen, or bullet train, in the city of Kumamoto. AFP Photo.
Nearly 800 people were injured, 50 severely. The prefecture office said 44,449 people had evacuated.
Gen Aoki, director of the Japan Meteorological Agency's earthquake division, warned more aftershocks could occur over the next week.
The quake was centered mostly under land, not an ocean, meaning it did not spawn a major tsunami.