This 20-year-old boy has survived attacks by shark, snake and bear
While he was sleeping outdoors, a bear grabbed his head in its mouth and dragged him, only to leave him when he poked its eye.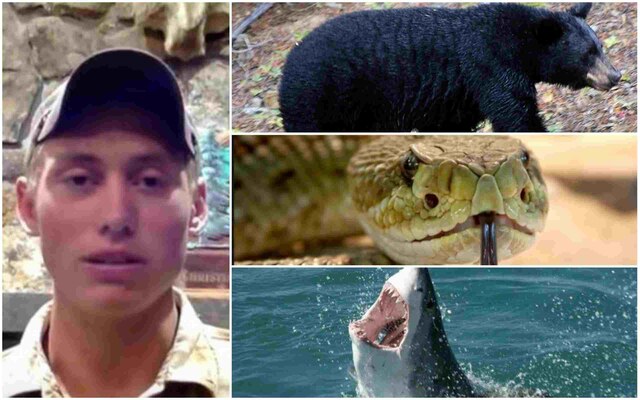 New Delhi: Dylan McWilliams from Colorado is a 20-year-old brave-heart who is making headlines for his survivor instincts.

The boy, merely 20, has faced beastly encounters with animals thrice and has survived them all.

As per foreign media reports, the boy has survived attacks by bear, snake and now a shark, in less than four years of time

As per the reports, Dylan was body-boarding on Thursday in Hawaii when a tiger-shark between six and eight feet long grabbed his leg.

The outdoorsman or explorer (as the media refers to him) hit back at the shark and then he swam 30 meters to the shore where a bystander called paramedics.

He was quoted by BBC saying "I didn't know if I lost half my leg or what."

Dylan was reportedly given seven stitches for the deep injury caused by the Shark which was six and eight feet long.

Encounter with bear:

McWilliams was sleeping outdoors in the wilds when he was awoken by the bear biting the back of his head.

The bear chomped his head and dragged him. McWilliams punched the bear and poked its eye in a bid to free himself and he succeeded.

He received nine staples in his scalp afterwards.

The slytherin encounter:

The first time, Dylan was bitten by a rattlesnake when he was on a hiking trip to Utah. The bite however did not do much damage to him. He was only ill for as couple of days reportedly.