Trump defends son, slams fake news for carrying news based on 'sources'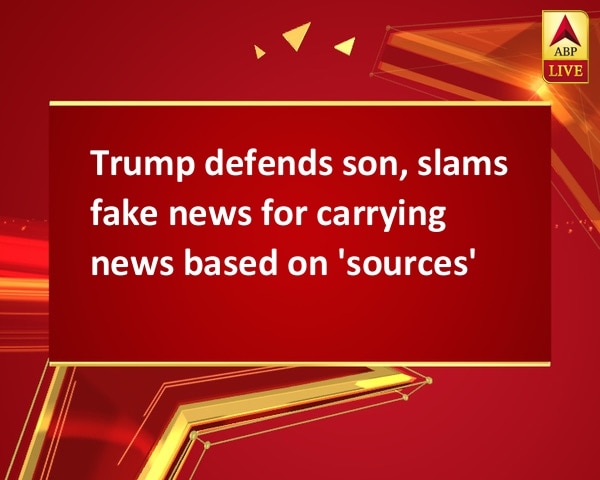 By:

ANI
Updated:
12 Jul 2017 07:30 PM
New York [U.S.A.] , July 12 (ANI):U.S. President Donald Trump congratulated his son Donald Trump Jr. on twitter for being transparent about his role in a July 2016 meeting with a Russian government-affiliated attorney and called the developments of the last several days the "greatest witch hunt in political history."
The elder Trump tweeted Wednesday "My son Donald did a good job last night. He was open, transparent and innocent. This is the greatest Witch Hunt in political history. Sad!"
Donald Trump Jr. tweeted on Tuesday a chain of an e-mail exchange in which he planned a meeting last summer with a woman described to him as a "Russian government attorney." Trump Jr. said he shared the e-mails to be "totally transparent."
Defending his son, President Trump slammed mainstream media for carrying fake news based on "sources say" and tweeted, "Remember, when you hear the words "sources say" from the Fake Media, often times those sources are made up and do not exist."
It wasn't the first time Trump had tweeted about the "greatest witch hunt." He tweeted the same phrase in May and June stating both times that it was the greatest witch hunt in American history.
As ISIS is on the verge of defeat in Iraq and Syria, Trump tweeted about wiping out ISIS, "ISIS is on the run & will soon be wiped out of Syria & Iraq, illegal border crossings are way down (75%) & MS 13 gangs are being removed."
Trump then tweeted that "@WashTimes states "Democrats have willfully used Moscow disinformation to influence the presidential election against Donald Trump."
President Donald Trump on Tuesday had accused Senate Democrats for obstructing and failing to confirm his nominees. (ANI)
This story has not been edited. It has been published as provided by ANI