Trump demands sacking of Washington Post journo for tweeting 'phony' pic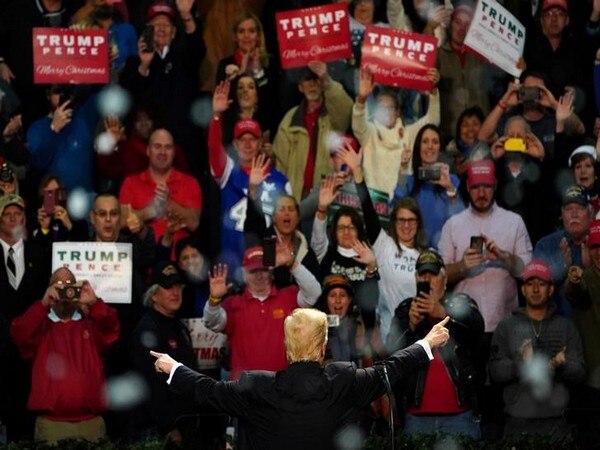 By:

ANI
Updated:
10 Dec 2017 08:25 AM
Washington D.C. [United States], December 10 (ANI): United States President Donald Trump has called for sacking of a Washington Post reporter who had tweeted a misleading picture of the president's Florida rally.
Dave Weigel tweeted a photograph wherein very people were seen attending the event in Pensacola on Friday night. Later, it turned out that the photo was taken before the event had begun.
Trump on Saturday called out the reporter on Twitter for posting the "phony photo".
"@DaveWeigel @WashingtonPost put out a phony photo of an empty arena hours before I arrived @ the venue, w/ thousands of people outside, on their way in. Real photos now shown as I spoke. Packed house, many people unable to get in. Demand apology & retraction from FAKE NEWS WaPo!" Trump tweeted.
Later, Weigel deleted the photo and said he was confused by the image of Trump's walking in the bottom right corner of the arena.
"Sure thing: I apologize. I deleted the photo after @dmartosko told me I'd gotten it wrong. Was confused by the image of you walking in the bottom right corner," he said in a tweet.
However, Trump was not satisfied with Weigel's apology and removal of the photo, as he demanded the reporter to be sacked.
"@daveweigel of the Washington Post just admitted that his picture was a FAKE (fraud?) showing an almost empty arena last night for my speech in Pensacola when, in fact, he knew the arena was packed (as shown also on T.V.). FAKE NEWS, he should be fired," Trump said in a tweet.
Weigel called his mistake a "bad tweet" on his personal account and not a story for Washington Post.
"It was a bad tweet on my personal account, not a story for Washington Post. I deleted it after like 20 minutes. Very fair to call me out. Everything I say on Twitter is a joke, except what I say about @swin24," Weigel tweeted.
Earlier, Trump had also attacked CNN ABC News correspondent Brian Ross for incorrect reporting. (ANI)
This story has not been edited. It has been published as provided by ANI