Trump 'weighed in' on Trump Jr.'s statement as 'any father would do': White House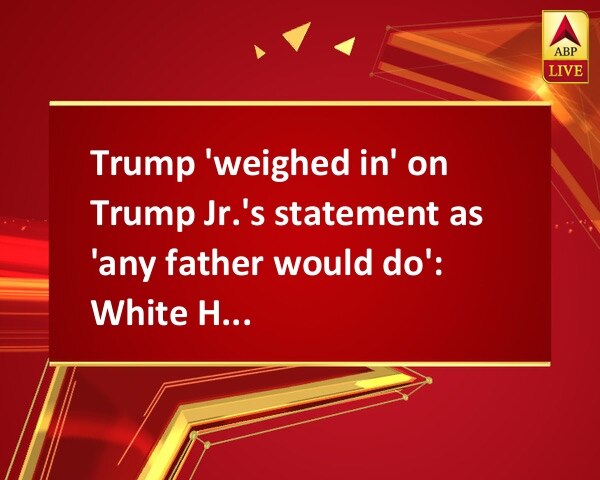 By:

ANI
Updated:
02 Aug 2017 05:50 AM
Washington [U.S.A.], August 2 (ANI): In the wake of the Washington Post's report that Donald Trump dictated a misleading statement for his son, the White House has said that the United States President did weigh in on the statement, as "any father would do."
White House spokeperson Sarah Huckabee Sanders, while addressing a press briefing on Tuesday, said that statement was not "misleading" and that "there is no inaccuracy in the statement."
She added that the Democrats wanted to use it as a "PR stunt."
Earlier, Jay Sekulow, one of the attorneys representing Trump in the Russia investigation, had denied that his client was involved with crafting a misleading statement about Donald Trump Jr.'s June 2016 meeting with a Russian lawyer.
In response to this, The Washington Post on Monday evening reported that the President indeed dictated the misleading statement.
The Washington Post, citing multiple people with knowledge of the situation, said "the original plan in response to the New York Times' reporting was to issue a truthful statement ahead of the story, but then Trump personally decided to have the statement say Trump Jr. had met with the lawyer, Natalia Veselnitskaya, to discuss adoption of Russian children by people in the U.S."
The article added that Trump dictated the statement while flying back to Washington from the G20 summit in Hamburg.
It was initially reported in early July that Trump Jr. met with Veselnitskaya along with Jared Kushner, the President's son-in-law, who has a senior role in the White House, and Paul Manafort, who was campaign chair at the time, in Trump Tower in June 2016.
Trump Jr. responded with a statement claiming the meeting was "primarily" about adoption and its relation to U.S. sanctions on Russia under the Magnitsky Act.
It was, however, shown the initial statement was misleading. (ANI)
This story has not been edited. It has been published as provided by ANI