UK councillor seeks ban on holding of Burhan Wani death anniversary rally in Birmingham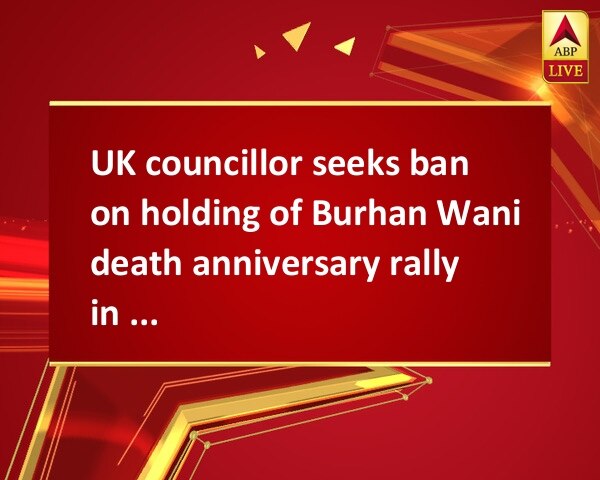 By:

ANI
Updated:
03 Apr 2018 05:40 PM
London [United Kingdom], April 3 (ANI): A British Councillor, Peter Douglas Osborn, has written a letter to Home Secretary Amber Rudd, asking the government to ban a possible rally that could be held in Birmingham in memory of slain Kashmiri terrorist Burhan Wani on his death anniversary on July 8.
"I spent ¾ hour on Channel X, a major Indian TV media channel, with spokesmen from the BJP, Congress party, and other minor parties explaining our weak response as a city to such a provocation. The city allowed, banned, then allowed again under pressure from a small section of the community. I did promise that I would try to get it banned this year which is why I am writing to you. Intelligence suggests that another protest is being planned," says Osborn from Bournville, Birmingham, in his letter dated March 15, 2018.
On July 6, 2017, the Birmingham City Council, on the basis of a strong protest from India, withdrew permission for a rally titled "Burhan Wani Day" that was proposed to be held to mark the first death anniversary of the terrorist who was killed by Indian security forces in the Tral region of Jammu and Kashmir on July, 8, 2016.
Media reports suggest that Indian authorities resorted to sending a "Note Verbale" to the United Kingdom to register the protest. The note highlighted details of crimes committed by Burhan Wani and propagation of violence by him in the Kashmir Valley.
It is believed that permission for the rally was sought by some United Kingdom based organisations that lobby for the cause of Kashmiri separatism. Tehreek-e-Kashmir Europe was believed to be in the forefront for holding the rally.
Promotional material for the event carried images of Burhan Wani and read, "We will take back what is ours forcefully. We will not rest until Kashmir is free from Kuffers and hoist the flag of Islamic Ummah."
Reports of the aforementioned preparations of the rally were carried by section of the Indian media.
In his letter to the Home Secretary, Osborn also highlighted the sensitivity of the Indian media to extremists being lauded in the United Kingdom. (ANI)
This story has not been edited. It has been published as provided by ANI