UN chief doing 'very spectacular job', says Trump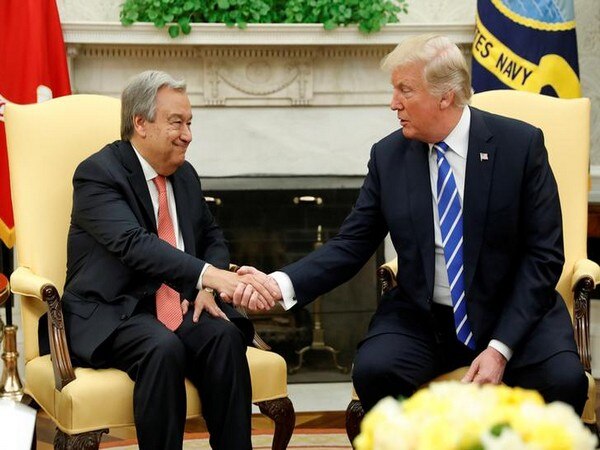 By:

ANI
Updated:
21 Oct 2017 05:50 AM
Washington D.C. [United States], Oct 21 (ANI): United States President Donald Trump has praised United Nations Secretary General Antonio Guterres, saying that he is doing a 'very spectacular job' at the organization.
Speaking during a meeting with Guterres at the White House, Trump said, "You have done a very, very spectacular job at the United Nations. And I can tell you, speaking for the United States, we appreciate it."
Trump also noted he has become a good friend with Guterres.
Guterres appreciated Trump for his support to UN's reform process and said that his organization needs 'a strong United States, engaged based on its traditional values -- freedom, democracy, human rights'.
"I am a true believer that we live in a messy world but we need strong reforms and modernized UN," he said.
Trump said that United Nations has "tremendous potential" but it "hasn't been used over the years nearly as it should be."
"But the United Nations has this great, great -- it's almost a power to bring people together like nothing else. It hasn't been used. You are starting to really get your arms around it, and I have a feeling that things are going to happen with the United Nations like you haven't seen before," he added.
"I mean, to have this group of nations in one location with one person -- which is you -- leading it strongly, I think, is -- in terms of world peace and other things and other -- many other things that you're working on -- I just wish you luck because the potential that you have is really unlimited," Trump said.
Earlier, Trump had met Guterres at the White House in April and also held bilateral with him during the UN General Assembly session in New York last month. (ANI)
This story has not been edited. It has been published as provided by ANI