Warner questions Trump's ignorance about 'Russia' meeting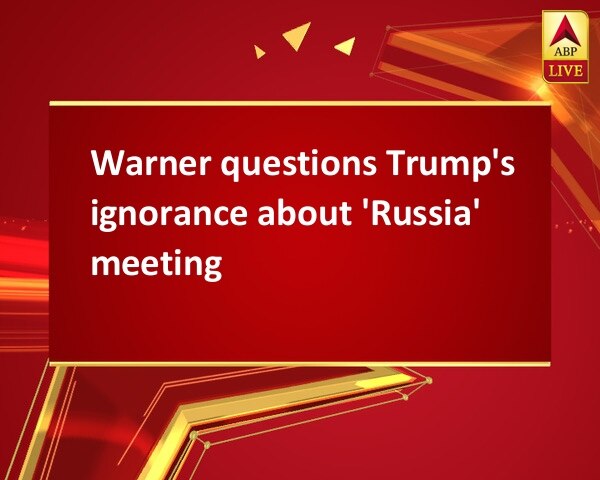 By:

ANI
Updated:
17 Jul 2017 06:30 AM
Washington [USA] July 17 (ANI): A top Democrat Virginia Sen. Mark Warner has questioned 'ignorance' of President Donald Trump about a meeting between his son and a Russian lawyer before last year's presidential elections.
Quoting sources, CNN says that the June 2016 meeting involved Donald Trump Jr., Donald Trump's son-in-law Jared Kushner, then-campaign manager Paul Manafort, Russian lawyer Natalia Veselnitskaya, publicist Rob Goldstone, Russian-American lobbyist Rinat Akhmetshin and at least two other people.
Warner said in an interview on CNN's "State of the Union" that he did not believe no one told President Donald Trump about a meeting last year between top members of his campaign and a Russian lawyer.
President Trump told Reuters on July 12 that he only heard of his son's meeting with a Kremlin-connected lawyer a couple of days ago.
Jay Sekulow, a member of the President's legal team, reiterated on "State of the Union" that Trump was unaware of the meeting.
"The President was not engaged in this, was not aware of it," Sekulow said.
Warner, however, questioned that assertion.
"Frankly, it's a little bit unbelievable that neither the son nor the son-in-law ever shared that information with their dad (Donald Trump), the candidate," Warner said.
Trump Jr., in a statement, initially described the meeting as primarily about adoption policy before conceding in a subsequent statement that he had agreed to the meeting in the hope he might get damaging information on Hillary Clinton.
Warner said he wanted to question everyone involved in the meeting as part of the committee's investigation into Russian interference in the 2016 election.
He told CNN that "whether we'll be able to get the Russian nationals to come over and testify is an open question. Those people that our committee has jurisdiction over, the Americans, I sure as heck want to talk to them".
But Warner said he wanted to get documents from them first so that the committee members have as much information as possible before questioning them.
Maine Sen. Susan Collins, a Republican on the committee, said in an interview later on the programme that she too wanted the committee to ask for all documents related to any contact between the campaign and "the Russian government or its emissaries." (ANI)
This story has not been edited. It has been published as provided by ANI