WATCH: Buses turn, aircrafts get blown away as massive tornado strikes Turkish airport
A dramatic video of the havoc was filmed by one of the witnesses and it is going viral across different platforms of social media.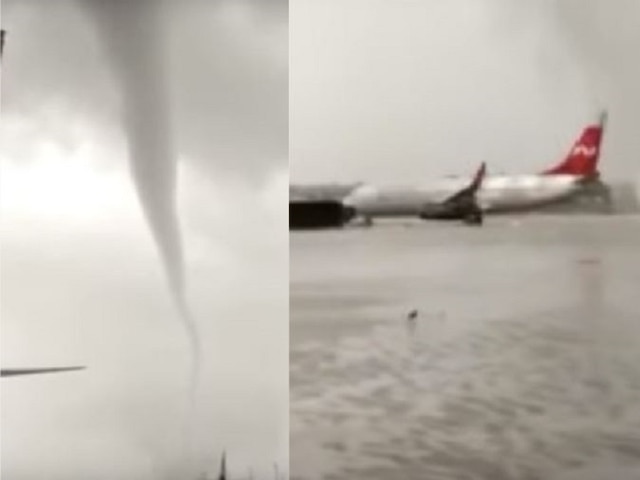 New Delhi:
A gigantic tornado unfolded in Turkey recently which brought life to a standstill at many places and wreaked a crazy havoc at one of its airports.
The tornado hit country's southern Antalya province on Saturday.
The Antalya international airport underwent mayhem as standing aircrafts were turned and moved here and there like toys and buses were toppled, when the calamity struck it with full force.


A dramatic video of the havoc was filmed by one of the witnesses and it is going viral on different platforms of social media.

In the havoc, 12 people were reported injured after 2 buses and air-stairs turned due to strong winds generated from the tornado. Air traffic was strongly impacted because of the gusty storms and torrential rainfall.

Here is the video that shows planes being shifted on their wheels, buses being turned as blinding storm takes over the airport:




VIDEO shows a massive tornado hitting Antalya Airport in Turkey. #breakingnews #news #aviationnews #avdaily #naturedisaster #tornado pic.twitter.com/aTcdySYefN


— AviationDaily (@AlexandreCasa8) January 27, 2019



A video of the event was shared on YouTube as well: